Do you realize that artificial grass can also get old?

UVA & UVB in the sunlight can damage your grass!
Artificial turf landscape may be placed outdoor all year round, and it will be touched by one thing during daytime – the Sunlight. The UVA and UVB ray in sunlight becomes the killer who has the ability to fade the landscape color and reduce its durability.
Like our skin should be protected in the sun, artificial turf landscape needs the high anti-UV stability to keep green and stable. CCGrass landscape has been successfully with the UV-defending character, which can be evaluated by the accelerated "UV aging test".
UVA and UVB is the main part of the UV rays in sunlight which can reach to us almost every day. UVB is fiercer than UVA rays, especially in equatorial zone, sunny latitudes or thin air area.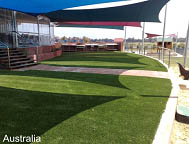 CCGrass has passed UVB artificial weathering test for fierce 3000 hours. This ensures the stability of CCGrass product even in some tropical desert climate, or some extremely hot area like Australia. These areas are famous for its extraordinary high temperature and long hours of hot sunshine. But CCGrass product can still offer a reliable warranty of 6-7 years of service life.
CCGrass has passed the tests:
UVA 3000 hours: to simulate 6-7 years in most areas and 5-6 years in extra sunny areas.
UVB 3000 hours (fiercer than UVA): to simulate 7-8 years in most areas and 6-7 years in extra sunny areas.
Product feather

Product

item

Color change result

Fine EX2/PX2

UVB3000hour

4-5

Iris EX2/PX2

4-5

Nature EX2/PX2

UVB3000hour

4-5

Prime SM EX2/PX2

4-5

Victoria EX2/PX2

UVB3000hour

4-5

Breeze EX2/PX2

UVB3000hour

4-5

Green HF

UVB3000hour

4-5

…

Color change scale reference
UVA/UVB Test: